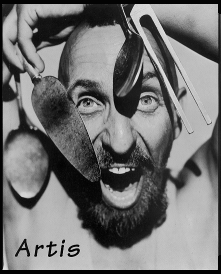 Artis the Spoonman is a local legend in Seattle. He has cerebral atrophy after 45 years of drinking, which has seriously affected his short term memory. He forgot we'd organised an interview after his closing set at the Pike Place Market busker fest (which was no problem, as by then we were pretty tired), and sent us an apology and an offer of an online interview.
Well, the following post is a little longer than we normally do, but as he's the legend that he is, and such an interesting article, we thought we'd let you hear him in full.
—-
ARTIS: It's me, the interminable Artis the Spoonman.
Dig. I'm on the dole – SSI & Soash. My economic situation is queer as a sea star. I've been giving the Spoonman away since 1974. I have 4 grandchildren and 2 great grandchildren. I have the most illustrious Spoonman life one could imagine.
If you [want an] insight to this fucking inconsequential legend, passive/aggressive, whinging spoon-player . . . respond and we'll work it out.
Sincerely,
Artis
NICK: I'd love to know how "this fucking inconsequential legend" feels about the difference between his social status (local legend) and financial status (queer as a sea star)
ARTIS: "This fucking inconsequential legend" is a passive/aggressive attempt to cover my desires to be an effective legend. Simultaneously, I know [no] "legend" or name is of any importance. More to the point, it's the competence of the storytellers and the community to hold the ethic together without heroes and icons to separate responsibility – near as I can figure.
The irony of my financial status is, I'm 63, sheltered, I eat too much, I'm celebrated (greeted) well, every time I walk outside my door, and I am on the dole, live below US poverty standards (and have for all but maybe 10 years of my life). I lived outside 20 years of my adult life. I was living in a school bus when I did the Letterman Show in 1990.
Still, I only owe $3K (which burdens me like a yoke) that I chip away at $100 monthly. So, like a sea star, I suffer the loss and lack of appendage$, but somehow grow them back when most needed. If I die with no possessions, unknown and respected by my grandchildren and great grandchildren, I'll probably smile and say; "Finally".
NICK: Is that the lot of street performers, to be exploited with little return?
ARTIS: It's the potential lot of everybody. Hell, for that matter, it can happen to the riche$t peops – "exploited with little return"? Anyone can go broke that way. I don't think it's an iconic aspect (or lot) of buskers. There are buskers who have become so successful they have purchased a chateau in Switzerland (Chalini the Magnificent – slight of hand), and achieved the prominence of having their own nationally broadcast television show on CBS (Shields & Yarnell – mimes, late 70s. I did their show). Need I say – The Beatles?
I think, usually, as in my case, it's a mental, cultural or otherwise learned incapability to do business.
NICK: Would you consider street performance a political statement, and is that why you got into it?
ARTIS: Mmm. Even our birth is political (as Jim Page once said to me). Statement? It may be a representation of a social condition (mostly healthy). If busking is allowed and received with broad appreciation, it's a healthy social situation.
I got into busking because I was afraid to ask theatre scenes to allow me in, I was too nonconformist to do school and learn musical performance. I was inspired by Elvis, Jagger, Zappa and along came Jim Page in 1971 and showed me he could stand out there or up there on a stage and play guitar while talking in rhyme.
NICK: Your closing statement at your show was amazing. Could you repeat it here?
ARTIS: Busking is the most honourable, most respectable and most difficult form of entertainment, period.
There is no cover charge – you don't pay a set amount before the show. You pay what you will, if you will.
There is no segregation. Buskers play to anyone whether they slept under a bridge the night before or on the 40th floor penthouse, whatever one's ethnic, religious, sexual orientation or age.
There is no minimum drink, dress code or go-between telling the act what is or is not presentable material.
The material is scrutinised by the audience with immediate effect. If an act fails repeatedly to maintain an audience or make reasonable financial or energy return, as desired, they won't be there for long.
The returns are never guaranteed or consistent.
Weather is always a factor.
And, it evokes the highest compliments entertainment can receive;
The audience member is going from point A to point B with little or no intention to be delayed for entertainment. So, to stop for an act, and remain, is the straight-up highest compliment an entertainer can receive – 100%
If the audience member applauds, presenting a conspicuous personal, public expression of satisfaction, that's 100%+
If the audience member then contributes any tip at all – 100%++
If, further on in the audience member's daily or life routines, espouses the quality and talent of the show they witnessed – 100%+++
There is no more honourable or challenging venue or form of entertainment, anywhere.
"As Artis the Spoonman says."
Oh yeah, we never get credit for our original material.  lol
Yours,
Artis