Hi testers!
This isn't just a chance to make some more money in the street. You can also help thousands of street performers, all over the world, by spending 1 minute, every time you busk, filling in a survey. It's good for you, it's good for buskers, it's good for us. And it'll just take you 1 minute a day.
I know buskers can be a bit protective of their techniques, hat lines and tricks. But we are all learning together. And at the end of this test, in just a few months, you'll all be given the knowledge we've collectively gained, as one big family.
And if we learn a lot?
Well, maybe the world's race into cashless payments won't be so bad.
So please, read the below. And remember to fill in your survey!
A. BuskPay works with (most) phones
Your audience unlocks their phone (this won't work on most phones' lock screens), taps their phones against a disk, they "confirm" the tip, and that's it. You can see that in the gif above, it takes just THREE SECONDS between the physical tap and me clicking the "confirm" button.
B. BuskPay DOESN'T work with cards.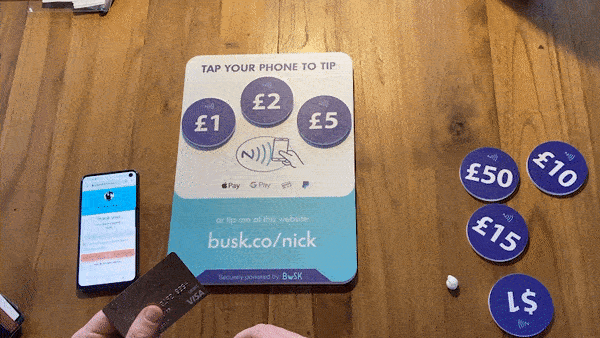 They don't work with bank cards at all.

And, unfortunately, they also only work with (roughly) 2/3 of phones on the market (a stat that's increasing all the time). Android phones have been pretty good with this technology for years, but iPhones are just catching up since 2019.

You'll have to be prepared for some people (hopefully not that many!) in your audience trying, and failing, to use the signs. You might also have to tell people to "unlock" their phones. And you should tell them that it works with most Android phones, but it only works with iPhone 11 by default, not the earlier ones.
C. Fill in the survey after EACH busk.
Hat lines, putting 'seed money' in the guitar case… buskers have been workshopping how to earn more cash for decades.

We don't have decades to workshop cashless payments. The problem exists TODAY! So, we're accelerating the learning process with your help.

Put simply, we'd like you to answer the same survey after every time you use BuskPay. Just go to:
That will redirect you to our survey. Alternatively, you can save the survey to your phone's 'homescreen', by creating an icon for it. Then all you have to do is click the icon to go to the survey. It's a bit blurry, but you can see the process on an Android phone here:
D. How to do the test
Try different hat lines. Then, in the survey, tell us what you said and how well you think they worked.
Display your signs in different places. Maybe on a music stand, or lying on the floor, or on your case… you decide, but try to see what works best.
Fill in the survey every time you busk — even if you didn't earn anything through BuskPay!
E. For those of you with 'adjustable' signs…
Some of you have chosen to have an 'adjustable' sign, meaning you asked to get more than three values, so that you can switch out the values displayed every week (or even every time you busk), to see which values work best. Some things to consider:
Do people tend to tap low values more often? (e.g. $1, $2, $3)
Do high values earn you more money overall? (e.g. $5, $10, $20)
What happens if you put the highest value in the middle? (e.g. $3, $10, $5)
Does putting a really high value on the board (e.g. £50) make lower values (e.g. £10) look more reasonable?
Or does putting a really high value on the board turn people off?
And so on, and so on, and so on…
WE can work out the answers to all the above, but only if you fill in the survey, every time you busk, so we know which values you displayed during that busk!
E. Current (known) flaws
We noticed that the glue we used may or may not have stuck well. If one of your disks comes off, just stick it back on with the blue tack we provided. Four, rice-grain-sized pieces of blue tack is more than enough.

If the plastic cover on the back of your disk comes unstuck, you'll have to use the blue tack we provided to keep it on. We decided to leave that bit of plastic on because it would help with waterproofing, but it turns out on some disks it's too loose.

That's what you get for taking part in a test. Of course the finished product won't have these problems!
Remember, fill in the survey: busk.co/feedback
Thank you, and good luck out there,
Lily & Nick